Committees & Interest Groups
INTEREST GROUPS ~ Interest Groups are for members only.  Self-directed groups of members gather daytime and evening - sometimes incorporating meals and refreshments.  New groups form regularly. 
COMMITTEES ~ Some are integral to the governance and work of the Club and some are to pursue and share issues of common concern.  Many committees welcome new members throughout the year while membership in some is restricted to specific representation.  If you are interested in participating in any committee please contact the Chair.
**********
COMMITTEES:
ARCHIVES - Committee members meet in the Archives Room on Wednesday mornings to sort, file and catalogue Club papers, clippings and photos. The committee also answers questions from members about the history of the Club and its home.
CHRISTMAS AT HYCROFT - Christmas at Hycroft will be celebrating 44 years as the major fundraiser for University Women's Club of Vancouver in November 2016. Members contribute time and energy to host this wonderful prelude to Christmas by decorating our amazing Clubhouse Hycroft to inspire your pre-Christmas planning, providing entertainment, a bistro, as well as presenting unique boutiques, sale of culinary creations, raffle, local artisans, a Christmas Shoppe. Volunteer opportunities abound.  
COMMUNICATIONS - This committee exists to ensure consistent high-quality communications with the goal of linking The University Women's Club of Vancouver and Hycroft within the Club and in the community.  The committee oversees the production of the club newsletter Hycroft Happenings and a weekly email update to members, website content, club publications, etc.
CONSTITUTION & BY-LAWS - The Constitution and Bylaws Committee meets at the call of the chair to consider changes to the Constitution, Bylaws, and Rules for presentation to the membership for approval.
EDUCATION - The Education Committee meets monthly to discuss and develop interest in areas of education, from local to international, from personal to public, and from early childhood to the elderly.  The committee encourages collaboration with similar groups within UWCV and the community.  Education is a lifelong journey.
ENVIRONMENT - We explore our common commitment to the environment, what that means to us, and what we want to do about it.
EVENT COORDINATING COMMITTEE - This group meets regularly to coordinate the Club's programs and events.  The members of the group consist of Chairs of committees that plan speakers, series, and events as well as conveners of special events.
FEDERATION - All members of UWC Vancouver are, by this membership, members of the Canadian and Graduate Women International.  The Federation Committee's mandate is to liaise with the provincial (CFUW BC Council), national (CFUW) and international (GWI) organizations and to inform and engage Club members in the issues and activities of these groups.  
FINANCE - The Finance Committee, chaired by the Board Treasurer, presents the Club's reviewed financial statements as well as the operating and capital budgets for approval by the membership at the Annual Meeting. Its members, necessarily qualified, review monthly financial statements and reports to the Board on any variances, supervise the Club's investments, make recommendations on entrance fees and dues, review the insurance policies for the property and the Club's directors, and monitor the Club's fundraising activities.
Finance Sub-Committees
Bid Review Committee - reviews competitive written bids for expenditures before the proposed work is tendered, and operates under the Finance Chair.
Capital Priorities - develops priorities for the Club, house, garden and property, with a special focus on non-routine maintenance requiring funding from the capital budget, HHPF or bequests and operates under the Finance Chair. 
Investment Advisory Committee - reviews the investment policy statement annually to ensure it reflects the ongoing goals and objective of the Club.  It liaises regularly with the Club's Portfolio Manager and monitors the performance.
HOUSE - The House Committee is committed to maintaining the buildings, contents and grounds of Hycroft, a designated heritage property. Planning is coordinated by the House Chair and Managers and executed by sub-committees in cooperation with the staff.
House Sub-Committees
Garden - The Garden Committee members are caretakers for our wonderful property that has numerous heritage trees, large rhododendrons, marvellous magnolia and many flowering shrubs and trees. 
House Exterior - The mandate of the Exterior House Committee is to maintain and preserve our heritage house exterior and to facilitate ongoing repairs, cleaning and upgrades as necessary. 
House Furnishings - The House Furnishings Committee recommends acquisition of and maintains furnishings as needed. The committee meets monthly. The committee also arranges flowers for special events when requested. 
LIBRARY - meets to sort and ready books for circulation in our lending library available to all members.
MEMBERSHIP - oversees the recruitment and satisfaction of members, is responsible for presentation of applications to the Board, and ensures ongoing needs of members are met by orientation and engaging their interest and participation.
NOMINATIONS - receives nominations for Club elections, determines eligibility and ascertains the interest of nominees for office, and coordinates elections.
PERFORMING ARTS -  meets to plan and deliver concerts and events for members and guests throughout the year.
PROGRAM - plans and executes a diverse range of events and programs that serve the needs of all members.  
SOCIAL - promotes, supports and facilitates events, in conjunction with other committees, to provide social components of club events to nurture fun and fellowship within the Club and the community.
STATUS OF WOMEN & HUMAN RIGHTS - The mandate of this Committee is to maintain awareness of human rights issues locally, nationally and internationally, giving specific attention to the legal, economic, social and professional status of women. The Committee liaises with other like-minded organizations, taking action as appropriate, including recommending and advocating policy through CFUW and IFUW.
VIS ARTS - manages the Hycroft Gallery through selecting artists, convening monthly exhibits, and hosting the opening receptions. This group also organizes special arts-related events and excursions featuring guest speakers and guided tours.
Interest Groups
...are open to all members.  For information on any group that appeals to you, please contact the Convenor.  Information on upcoming meetings is regularly posted in Hycroft Happenings and the Weekly EMail update.
Members interested in starting a new Interest Group need only three interested members to participate in order to have suitable space at Hycroft provided. All Interest Groups function at no cost to the Club. The Interest Group Chair will assist any member in forming a new interest group.  
BOOK GROUP - Afternoon - Readers meet on the first Tuesday of the month to discuss the book, fiction or non-fiction, of the month. Sometimes no specific book is chosen, but members each describe one that they liked and feel that others should know about. New members are very welcome to the discussion.
Bridge Groups
Afternoon Round Robin - This group meets in members' homes or at Hycroft from October to May. Members play twelve games in groups of four during this period. A cumulative record is kept and prizes are awarded for top scores. We have a party in May at Hycroft. This group enjoys challenging games, entertaining conversations and making new friends. New members are welcome.
Monday Bridge - In keeping with the mission of the UWCV, the Monday Bridge group endeavours to promote fellowship and camaraderie amongst a group of women who enjoy playing the game of bridge in a relaxed and supportive environment. Come join us Monday mornings at 10 am.
Tuesday Afternoon - This group meets every week at 1:00 pm for two hours of Chicago Bridge from mid-September to the end of April. Substitutes often fill in on very short notice if a regular member cannot play. We enjoy a wind-up luncheon at the end of the season.
Thursday Bridge - Friendly play on Thursdays from 10am to noon from September to May
Sunday Bridge - new this year
BUSY GOURMET - meets on the third Monday evening each month to share a cooperative dinner based on themes set by rotating hostesses. We focus on the 'busy' while enjoying those who share 'gourmet'. Generally 25 - 30 attend to enjoy a meal, talk and have fun. We welcome new and long-time members.
CHICK FLICKS - meets the fourth Thursday evening of the month to socialize and enjoy a chick flick in good company at Hycroft.  We often share dinner in advance of the movie showing.
CINEPHILES - Film enthusiasts meet on the fourth Tuesday evening of each month to enjoy an off-site showing. Details are circulated in Hycroft Happenings.
CLUB CONNECTIONS - Professional networking and mentoring group meets in the evening to share professional expertise, resources, and career experiences. Check Hycroft Happenings for details. 
COMPUTER GROUP - Wondering how to use your iPad and all it has to offer?  Trying to organize your photos and music and want some help? This PC and MAC friendly group provides a welcome place for your questions.
CONVERSATIONAL FRENCH - We welcome people with beginning French language skills, and those who are more fluent. Members meet weekly on Tuesdays and Thursdays from 10am to noon.  Danièle Walker is our mentor. We enjoy the camaraderie and the convesation.
DANCE GROUP - The Dance Group provides a wonderful opportunity each Wednesday evening for people who love to dance. We hold weekly Dance Classes in the ballroom from 7-9pm for new and intermediate dancers. A broad variety of dance types are taught including waltz, foxtrot, rumba, tango, cha cha & swing. It is helpful when members bring a partner although they may come on their own. Classes run September through June. An instructor(s) with expertise in the type of of dance is hired and paid as required with fees collected to cover costs. We hold casual dances at the Hycroft ballroom open to all members.
FEMME DU FROMAGE - meets monthly on fourth Tuesday evenings to celebrate the joy of cheese ... and pairings of wine of course.  Formed to explore all the possibilities of pairing good cheeses with good beverages in good company, details are circulated in Hycroft Happenings and by email to those members who indicate their interest with the Convenor.
FITNESS - We enjoy classes on Tuesday and Friday mornings. Tuesdays are an invigorating workout incorporating yoga for stretching along with fun and simple dance routines for cardio.  On Fridays the low impact class is accompanied with music and offers a varied program including expercies for warm-up, flexibility, cardio, balance and relaxation.  All levels of ability are accommodated.
GOLF GROUP  - Our group consists of golfers from UWC and guests who have a range of golfing skills, and who enjoy casual play at a variety of courses.  The courses played are easy and the focus is on having fun.
HOOKED ON NEEDLES - welcomes all members who knit, sew, quilt, weave, crochet or do any other fiber art to gather informally to share ideas and expertise.  We meet first and third Tuesdays at 10:30am.  All members welcome at any stage of proficiency.
HYCROFT PAINTERS - Members who enjoy ceating art meet on Tuesday and Friday afternoons between 1:30 and 5:00 to paint.  We work in different mediums including watercolour, acrylic, and oil.  We bring our own supplies and work on individual projects but share fellowship and fun as we encourage each other in our work.  Everyone is welcome to join either the Tuesday or Friday group --- or both.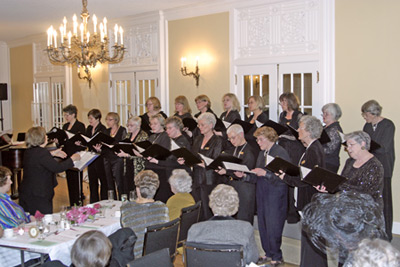 HYCROFT SINGERS  - The Hycroft Singers enjoy making music together for appearances at Christmas at Hycroft, the Members Christmas Party, the Annual Dinner and other command performances during the year.  We have an extensive range of interest - from mediaeval carols to Broadway ballads, and love them all.  We usually meet on Tuesdays afternoons.  Interested club members are invited to contact Music Director Donalda Falconer for audition.
INVESTMENT LITERACY - Members, interested in handling money wisely, meet the second and fourth Monday each month at 1:30 to 3pm for discussions led by an Investment Advisor. Seminar topics depend on the interest of the group and can include types of investment, tax and estate planning, balancing a portfolio and market developments. Lively discussion is encouraged and each session completes a topic.
ISSUES CAFÉ - At Cafe, we engage in lively social discussion featuring topics that are specific and current, set and moderated by rotating hosts.  Regular scheduled meetings are held monthly, on the fourth Monday evenings. The format is a no-host social, a presentation begins the moderated discussion which concludes with a summary of the evenings topic. "What is said in the Cafe, stays in the Cafe".  Dinner usually follows - watch the newsletter.
MAHJONG  Daytime -  meets Thursdays from 12:15 - 3pm to play mahjong, have fun, enjoy friendly competition and keep our minds active.  Instruction is available.  All levels are welcome.
MAHJONG Evening - new this year
MEDITATION and RELAXATION - meet Friday mornings
MILLENNIALS - members under 35 years of age meet to share interests and activities 
MONDAY WRITERS GROUP - meet weekly to discuss writing techniques, to write to prompts and to share out work in the group.  It produces much laughter, some tears and much appreciation of 'hard writing makes easy reading'. A potential second group is being planned.
PLAY READING GROUP - Our enthusiastic group meets every 2nd and 4th Friday of each month at 10:30am.  We read play-sets from the VPL and endeavour to choose an eclectic mix of plays from Agatha Christie to William Shakespeare.  No great acting skill is required - just the desire to read a good play and sometimes discuss the issues that arise. 
SCRABBLE GROUP - The Scrabble Group meets on the 3rd Sunday of the month at 1:30 pm. It is open to all members (new or experienced players). No registration required - just come and play.
SCRAPBOOK/CRAFTS GROUP - Join us to work on the craft project of your choice. We meet on first and third Wednesdays.  We have tools and ideas to share. Beginners very welcome.
TEXAS HOLD'EM POKER - Please join us for a game of Texas Hold'em Poker on second Tuesday evenings each month. This simple card game is not only fun, but helps us to develop strategic thinking. We are not playing tournament style poker, so feel free to join us on a drop in basis. Beginners and experienced players are welcome. Check the newsletter for dates and times of the poker and the pre-poker-pizza.
TRAVEL - meets second Thursday evenings of the month. In addition to nostalgic trips down memory lane of some best travel experiences, photos, and souveniers and guest speakers, you can count on getting out and about.  A photo walk with a master professional photographer is planned, as well as programs on how to appreciate gardens on your travels, social media skills and travel, and being a tourist in our town.  
WINE APPRECIATION - The Wine group meets on the third Thursday evening of every month. We sip, slurp, and talk about wines in a very informal way. Anyone is welcome to join us. Look for the updates in the Hycroft Happenings or contact the Convener to taste with us.  We enjoy catering from our Hycroft Hospitality for which we are billed. Cost of the wine each month is TBA.
WHISKEY WOMEN - This always growing interest group meets on the first Tuesday evening of the month to taste a new scotch, learn the art of nosing and tasting, and most importantly have fun.  Members  are responsible for $15 cash to cover the cost of the whiskey, and the cost of ample food catered either in-house or by contribution determined by the Convener.  Members take turns selecting and presenting new offerings and toasts to the group.  Each evening will include at least 2 whiskies to taste and compare.  Contact the Convenor for more information.