We're pleased to bring a variety of entertainment, inside and outside to this year's Christmas at Hycroft, everything from harps to jugglers there's something for everyone!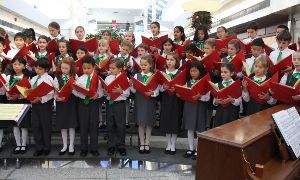 Vancouver Bach Children's Chorus & Youth Choirs – The Vancouver Bach Children's Choir will perform in the courtyard under the direction of Marisa Gaetanne. Later in the day we're pleased to have the Vancouver Bach Children's Chorus perform 'A Ceremony of Carols' under the direction of Marisa Gaetanne, accompaniment by harpist Merrissa Ollivier.
The Kringle Singers - Kathleen Anderson, Karen Kristjanson & Reynhardt Krause ( This email address is being protected from spambots. You need JavaScript enabled to view it. )

Harpist, Colette Gariepy - Colette's repertoire is very diverse, from classical to contemporary, including Celtic and medieval music. With over 20 years' experience, it is always a pleasure to listen to Colette perform.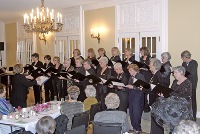 Hycroft Singers Under the musical direction of Donalda Falconer, accompanied by Pat Stark, the Hycroft Singers enjoy making music together for appearances at Christmas at Hycroft and other command performances during the year. They have an extensive range - from mediaeval carols to Broadway ballads, and we love them all!
Kerrisdale Bell Ringers Quartet – An ensemble of bells in a variety of octaves that play every type of music in the most delightful way.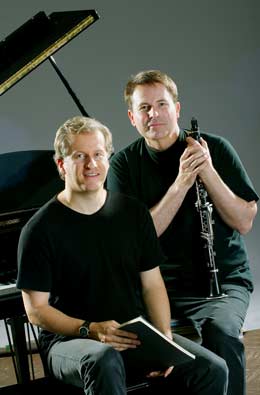 Amicus Music Duo – Craig Addy & Howard Meadows make this wonderful musical duo of piano & clarinet. We're very pleased to have them performing their beautiful and engaging sounds for our Event.
Pianist, Jocelyn Pritchard – A yearly favourite of visitors of Christmas at Hycroft we're glad to showcase Jocelyn's talent at tickling the ivories and spreading happiness through her mesmerizing music.
Pianist, Lorna Yeates - A 3rd generation pianist , when not composing music or playing at command performances herself, Lorna enjoys teaching piano at all levels and ages. She particularly enjoys teaching beginners, whether very young or up to adult age.
Harpistry – Under the direction of Mehlinda Heartt.
The Capilano Brass — Eclectic is the sound of this brass quintet. From pop to jazz to the classics they cover it all. Under the direction of Robert Toren on bass trombone we have Tom Parr and Terry Waters on trumpet, Charlie Seaton on French horn and Tom Koven.
Gracenotes String Ensemble - Under the direction of cellist Sarah Poon , this dynamic group will bring a touch of class to any special event, specialising in music from the Baroque, Classical and Romantic periods, their repertoire even extends to popular tunes, tangos and even some Irish fiddling!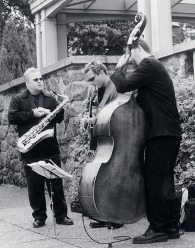 Stolen Moments Jazz Trio - Stolen Moments Jazz is Tim Clark on guitar, Andy Milne on Stand up Bass and Dave Raglin on Tenor Saxophone. Polished, smooth jazz with lively upbeats will set you into a swanky Christmas at Hycroft Saturday night.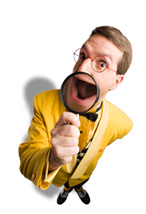 Tako Banana - The Checkerboard Guy & Leah James– 100% Infectious FUN! ...What do you get when you combine an award-winning comedy juggler with the breathtakingly graceful artistry of an incredible circus acrobat then throw in an ample supply of ridiculously funny? The answer is simple -meet the new comedy duo Tako Banana!* Be it the skilful manipulation of juggling props or jaw-droppingly cool acrobatic stunts, these two bring a ton of fun to the stage with a playful brother-sister dynamic that leaves audiences gasping, guffawing and always wanting more! Tako Banana are pleased to present their interactive tribute to the holidays which is sure to be more fun than a bag full of candy canes, more mischievous than a reindeer in roller skates and more hilarious than Santa with a sunburn! Come on out and be a part of the adventure!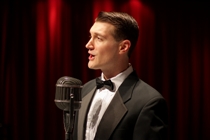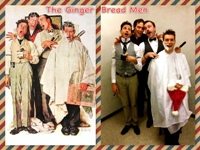 Jeffrey Victor Vancouver's very own Bing Crosby is crooner Jeffrey Victor! Allow him take you back in time to the nostalgic Christmas' like you used to know. Accompanied on the piano by Mr. Larry Enns of Lande Cabaret, with special guests, the singing quartet known as the "Gingerbread Men."