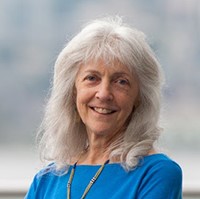 The 2016 BC Child Poverty Report Card has just been published. Packed with facts and real-life stories of BC families, it's a valuable and poignant record of the reality that since the first report card was published in 1995 one in 5 children in BC still live in poverty.
First Call is the non-profit organization that spearheads this project and at its helm is Adrienne Montani, a woman whose finger is on the pulse of everything to do with children and youth in BC. It wasn't always that way but changed, she says, when she had children.
Adrienne has been a social activist since 1976 and began her career in BC with the Surrey-Delta Immigrant Society. She has worked with Big Sisters, the Vancouver School Board and was elected to School Trustee, a position she held for five years and from which she derived some of her most fulfilling accomplishments:
"Our board prioritized protecting the most vulnerable students. We successfully mobilized and supported parents and educators to stop planned cuts to inner city school funding and put in place policies and practices to better support LGBTQ students and teachers in Vancouver schools."
As a Child and Youth advocate for the City of Vancouver she worked with street youth, aboriginal and LGBTQ+ kids, and liaised with the Youth Council to foster initiatives to herald change. Now, with First Call for the past 10 years, she has dedicated herself to working for policy changes in legislation & government.
When asked what projects she has in mind for the coming year, she said this:
"In 2017 I will be working on the urgent need to improve BC's protections for children and youth in the workforce. Too few people are aware that since 2003 BC's child labour standards have been dramatically lowered, putting the health and safety of these young workers at greater risk.  BC lowered the unpermitted minimum work age to 12 from 15, and the government is not monitoring where 12 to 14-year-olds are working.  When people hear about this and realize how negligent our government is in tracking children's safety in the workplace, they are shocked and question why we lowered our standards.  This can be easily fixed by a provincial government that is really committed to children's best interests."
A recent initiative at the University Women's Club of Vancouver – study circles for Youth Aging Out of Care – was made possible by the collaboration of the Canadian Federation of University Women BC Council, First Call and the Vancity Community Foundation. "Social justice advocacy requires perseverance over the long haul, so finding kindred spirits to work with helps sustain us through the times when it feels like we're not making progress."
This is certainly true at the University Women's Club of Vancouver where a number of committees work on various projects to create improvement in the lives of women and children.
Adrienne Montani has this to say about advocacy: "When women are motivated by their life experiences and/or a fire in their belly to challenge injustice — whatever their chosen issue — I encourage them to go for it! A question we can all ask ourselves is — if not me, who will step up?  The rewards of engagement and advocacy for reducing inequality and fighting injustice are continual learning, purpose in your life and, ultimately, a better world for future generations.  Who doesn't want to be a part of that? "
Author: Marlene Adam, UWCV member