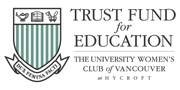 Earlier this year our Trust Fund for Education (TFE) came together with local academics, students, and other UWCV members to honour our bursary and scholarship recipients from 2015 and 2016. This treasured biennial tradition allows us to not only celebrate the many achievements of the young women and men we support, but connect directly with the difference that we are making within our community.
This past year our TFE provided scholarships and bursaries totaling $40,000 in annual awards and $20,000 in endowed funds to BCIT, Emily Carr, Langara, SFU, UBC, VCC, and North Burnaby Secondary School. All of this is made possible through generous donors, like you, as well as interest from existing funds, bequests, memorials and member dues. The University Women's Club of Vancouver extends a huge thank you to our members and donors for helping us to continue our founding principle of promoting opportunities and education for women and girls.
Collaborated fundraising with the CFUW 100th Anniversary Scholarship Project and TFE is ongoing. You can still be a part of this by visiting our office and purchasing some of the delightful art cards designed by our very own Hycroft painters!