Courtyard Fair
Christmas at Hycroft converted the Courtyard into a spacious, fun and delicious area for you to spread out and enjoy a variety of live entertainment and yummy activities…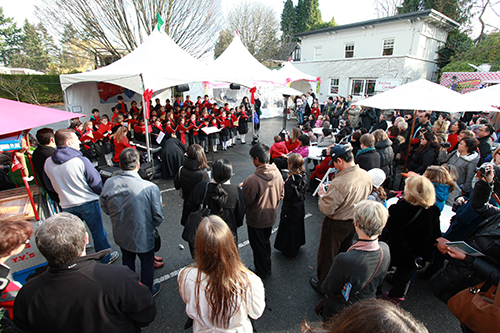 Across from the main house is our little Coach House – the industrious members of the University Women's Club Vancouver formed the legendary Hycroft Kitchen Creations Team and filled the Coach House with homemade traditional Christmas goodies such as: Christmas puddings, mincemeat, to-die-for lemon curd, renowned lemon lentil soup,  chutneys, jams and freshly baked goodies like butter tarts and Nanaimo bars, and even have special treats for four-legged family members.
Also located in the Coach House
Olde World Fudge Creamy fudge and other treats such as caramel, peanut brittle, and almond bark are also available for purchase within the Coach House.
Tartine Tarts Sophisticated and delicious, frozen savory tarts, tried-and-true meat pies and perfect pie and tart shells made with real ingredients.
BKH Jerky Awesome authentic Singapore style beef and pork jerky. It's fresh, it's fabulous, and it's made from the finest cuts of Canadian meat. No MSG, gluten or wheat. Seriously addictively good!
Honey Bee Zen Apiaries Known for its sustainable beekeeping, Honey Bee Zen specialize in careful production of honey from the rich Fraser Valley agriculture belt – you can almost taste the sunshine that their bees have harnessed to produce rich flavourful goodness.
In the main Courtyard:
A large heated tent provided ample seating to watch the entertainment activities, or grab some air and take a little break and enjoy a cuppa. You'll find: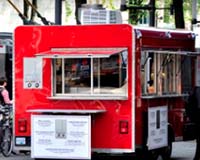 Emelle's Catering Signature cuisine catered from their fire engine red trailer featuring tasty warm-up items like their addictive cauliflower fries (this almost sounds healthy), warm pulled-chicken sandwiches, poutine (with delicious vegetarian gravy!), hot dogs, cupcakes, java, tea, eggnog, hot chocolate and mulled apple cider.
Safety-Brella Be safe – be seen! These terrific, high-quality umbrellas for adults and children come with LED lighting along the shaft of the umbrella. They also have an LED flashlight at the bottom of the umbrella. Powered by 3 AAA batteries that are easy to replace when necessary. Great gift – and don't forget yourself!
Mr. Fireworks Party favours and super fun LED light products such blinking tiaras, flashing glasses or flashing Christmas and hobby pins, Mr. Fireworks, AKA Mr. Flasher has you covered.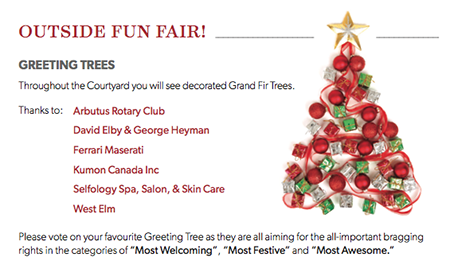 Sponsor a Greeting Tree and get decked!
Want to get noticed by our over 5,000 visitors the moment they walk through the gates? Help us transform our magnificent Courtyard entrance into a magical winter wonderland by decorating a fresh evergreen tree in seasonal splendor. Click here for more details.