Entertainment
THANKS to everyone who made Christmas at Hycroft 2015 so enjoyable by bringing us music: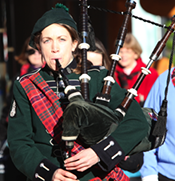 Wee bonnie lass, Heather Mosher, piper extraordinaire led ladies of the University Women's Club Vancouver along South Granville Street to the stately wrought iron gates adorning the beautiful Edwardian mansion, Hycroft.
Mosher, who comes in at a whopping 125 lbs. and stands all of 5'4" tall, had her work cut out for her as the joyous following of McRae tartan- sashed women meandered along Granville and UP the McRae hill as they spread cheer and candy canes to onlookers. (Like herding cats…just sayin').

Jocelyn Pritchard is an accomplished pianist in the arts of accompanying and chamber music.  Teaching piano students, coaching singers, and forming choirs has taken up much of her time as well as serving as a church musician, adjudicating and concertizing with Patricia Elliot (two pianos) and presently Margot Ehling (piano duets).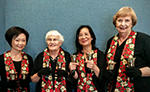 Kerrisdale Bell Ringers Quartet is an ensemble of bells in a variety of octaves that play every type of music in the most delightful way.
 Their arrangements of seasonal music to suit just four bell-ringers was especially appreciated this year.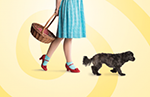 Gateway Theatre, Wizard of Oz Costumed youth ambassadors from the Gateway Theatre delighted guests in costumes of Dorothy, the Wizard, Wicked Witch, Tin Man, and Scarecrow.  Cameo appearances for photos and fun spread joy among our guests.
SANTA was a big hit for the young and young-at-heart.



Harpist, Colette Gariepy  – Colette's repertoire is very diverse, from classical to contemporary, and including Celtic and medieval music. With over 20 years' experience, it is always a pleasure to listen to Colette perform.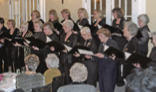 Hycroft Singers  –   Under the musical direction of Donalda Falconer, accompanied by Pat Stark, the Hycroft Singers enjoy making music together for appearances at Christmas at Hycroft and other command performances during the year.  They have an extensive range – from mediaeval carols to Broadway ballads, and love them all!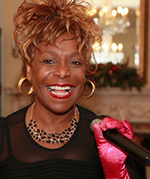 Patricia Raye Jazz Trio  – Smooth jazz sounds combined with Patricia's smoky voice delivered fresh and exciting arrangements of standards with an added twist of new school groove.

Rosemary Mallory, always the seasoned pro, provided a broad variety of Christmas music.  As well, Rosemary led a Christmas sing-along, delighting her enthusiastic audience. Thanks so much.

Hsin-Hui Liu  – Miss Liu has been presented in several successful solo and chamber music recitals in the US, China and Taiwan. She graduated summa cum laude from the Lynn University Conservatory of Music with a degree of Bachelor of Music. Miss Liu is the winner of the 2012 Lynn Concerto Competition and she performed at the World Performing Arts Center with the Lynn Philharmonia. She is also the winner of the 2012-2013 Ars Flores Concerto Competition and performed with the Ars Flores Symphony Orchestra at the Miniaci Performing Arts Center. Miss Liu is pursuing her master degree under the tutelage of Dr. Sara Buechner at UBC School of Music.

Kevin Zakresky  – Head of the voice department at the Vancouver Symphony School of Music and founder director of Orpheum Voices, a festival chorus based in Vancouver. Kevin hosted an energetic 'Sudden Instant Christmas Carol Choir Sing' to get everyone into the spirit of the season.

Jeffrey Victor, Vancouver's very own Bing Crosby!  Jeffrey took us back in time to the nostalgic Christmas' you used to know. Accompanied on the piano by Mr. Larry Enns of Lande Cabaret, with special guests, the singing quartet known as the "Gingerbread Men" 
made their annual appearance.

Kakhanang Denkowit  – Kakhanang began her piano study at the age of 7 and is the recipient of several medals from competitions including Yamaha Music Festival. In 2014 she began studies towards her Master's degree with Dr. Sara Davis Buechner at the UBC School of Music.

Shirley Cha – Miss Cha has been playing the piano since she was five years old. From the moment she started learning piano, her dreams of becoming a pianist has never changed. Shirley currently studies piano performance with Dr. Sara Davis Buechner at UBC School of Music.
THANKS to young singers in the Vancouver Bach Family of Choirs:
Vancouver Bach Choir Toccata  –  Young choristers warmed the hearts of guests in the Courtyard with a Christmas montage under the direction of Marisa Gaetanne.
Vancouver Bach Chorales – Intermediate children's choir under the direction of Marisa Gaetanne filled the Drawing Room with joy and music.
Vancouver Bach Children's Chorus – High performance children's choir under the direction of Marisa Gaetanne left us all ready for the coming Christmas season.
The Capilano Brass – Eclectic is the sound of the brass quintet. From pop to jazz to the classic, they cover it all. Under the direction of Robert Toren on bass trombone, we have Tom Parr and Terry Waters on trumpet, Charlie Seaton on French horn and Tom Koven on trombone.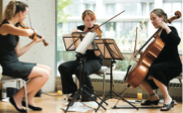 Gracenotes String Ensemble  – Under the direction of cellist Sarah Poon , this dynamic group will bring a touch of class to any special event, specializing in music from the Baroque, Classical and Romantic periods, their repertoire extends to many genres.  Well-received was the 'guess which Christmas carol this is?' set.

Stolen Moments Jazz Trio – Tim Clark on guitar, Andy Milne on Stand-up Bass and Dave Raglin on Tenor Saxophone. Polished, smooth jazz with lively upbeats provided a swanky Christmas at Hycroft Saturday night.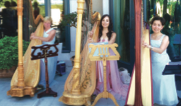 Harpistry – The Harpistry Harp Choir which has been performing under the direction of Mehlinda Heartt for the past 10 years, provided a stellar program that delighted our guests.  One harp is lovely, two is beautiful, but FOUR is a stunning visual treat. Combining that with the excellent music of harpists Mehlinda Heartt, Katherine Collin's, Jessica Shintani, and Sylvia Tam performing traditional and contemporary Christmas songs definitely put us in the mood for Christmas.

Evelyn Tijandri started playing piano at 4 years of age at private music institution, Symphony Musical Art Centre, and now enjoys continued study, as well as participating in competitions and festivals. A student of Dr. Sara Davis Buechner at UBC School of Music, Evelyn provided a wonderful musical performance.

Judy Henry – Judy performs on both harp and flute in the Vancouver area.  Experienced as both a solo and chamber musician, her breadth of experience encompasses concert halls to hospices, to dinner music for the King and Queen of Sweden.  Judy creates magical musical atmospheres to enhance special occasions.

The Kringle Singers, Kathleen Anderson, Karen Kristjanson & Reynhardt Krause 
meandered the House and Courtyard spreading Christmas Carol joy to the delight of guests.