Welcome to the University Women's Club
of Vancouver at Hycroft
The University Women's Club of Vancouver, founded in 1907, has a proud history of promoting education, rights and opportunities for women as well as being a Club for women who enjoy the use of Hycroft as a gracious home away from home in which to spend time, share ideas, interests, hospitality and fun.
Membership is open to women who support the purposes of our Club, and is no longer limited to university graduates. Our membership of over 350 currently includes graduates of more than 110 universities worldwide and women who have pursued other experiences.
UWCV is a member club of the Canadian Federation of University Women (cfuw.org), an equality-seeking, advocacy organisation that works to advance the human rights of women and girls. In turn, by CFUW membership we are affiliated with the International Federation of University Women.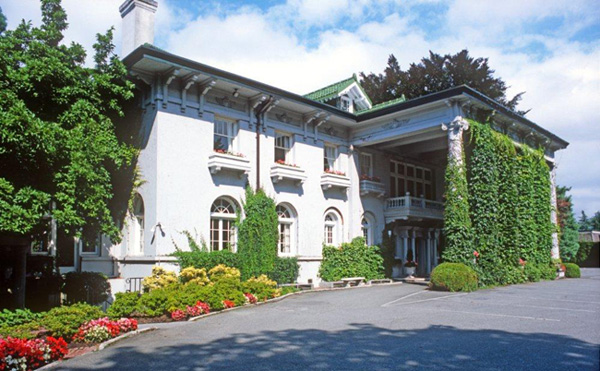 Hycroft, our heritage Edwardian clubhouse, built 1909 - 1911 by A. D. McRae, was purchased in 1962 by forward thinking members of the UWCV for its Clubhouse in Old Shaughnessy. From a place to drop in to enjoy some quiet time or to entertain your guests, to social gatherings and meetings, Hycroft provides gracious and welcoming space paired with gracious hospitality services.

Hycroft is open to the public for many interesting and varied events throughout the year including our annual fundraiser, Christmas at Hycroft.
Rentals of Hycroft and Hycroft Hospitality Services are available at competitive rates for those seeking a unique setting for meetings, events, conferences, retreats, receptions, parties, weddings, and other special occasions.
UWCV

Blog
Jocelyn Pritchard - Member of the Month
Jocelyn Pritchard is our randomly selected featured member this month. Having just celebrated a significant birthday by performing a concert with friends in support of a favourite cause, The Townships Project, one could expect her to be sitting back. Not so much. Every day begins with one-half hour each of reading, embroidery, then piano practice. Before breakfast.
Privacy Policy Updates
The Personal Information Protection Act ("PIPA") regulates how organizations handle personal information in a manner that recognizes both the right of an individual to have such information protected and the need of organizations to collect, use or disclose information for purposes that are reasonable. PIPA requires each organization to establish a policy for compliance and to make their policy available to the public. In conjunction with this requirement, the UWCV has a written Privacy Policy that applies to personal information of members, donors, rental clients, staff and others.
Recently, a few changes were made to our Privacy Policy in order to simplify and clarify some of the wording, modernize for communications, address photographs at club events, and update staff titles.
We encourage you to take a few minutes to familiarize yourself with our Privacy Policy. We all have an important role to play when it comes to protecting personal information.
Click to download our full Privacy Policy
Member Profile: Rika Wright
Rika was born and raised in Vancouver. In 1933 she graduated with a BA and in 1935 received a diploma in Social Work. She discovered that social work was not for her but the experience allowed her, a shy young woman, to become more confident and outgoing. She had a long and rewarding career, 37 years, with BC Mental Health. Early in her career, to her dismay, she found herself training a succession of male bosses to do the work for which she was eminently suited. Eventually she applied for the position pointing out that she was not prepared yet again to train another man to be senior to her. She was given the position at a salary substantially lower than her predecessor which adversely affected the amount of her pension when she retired at 65.
A Place All Her Own - As seen in West Coast Families Magazine
Pulling up to the gates of Hycroft, you can already feel the history of this amazing building—and quite a history it is. Built by General Alexander Duncan McRae to exacting standards and completed in 1911, it was once the centre of the social scene in Vancouver. It is now home to the University Women's Club of Vancouver.
Vancouver Chamber Players Rediscovered Treasures of Chamber Music First Concert of the Season
Tuesday, September 24, 2013, 10:30 am (doors open at 10:00 am, coffee and cookies served)
Cellist Lee Duckles is joined by violinist Jennie Press and pianist, Monica Pfau in performances of piano trios by two French masters, Claude Debussy and Maurice Ravel.