Events Search and Views Navigation
July 2020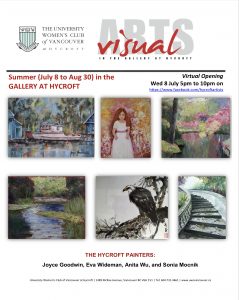 Members are cordially invited to the Hycroft Gallery to see art by our own Hycroft Painters. Anita Wu will be displaying Chinese style watercolours, Joyce Goodwin and Sonia Mocnik will be displaying watercolours, and Eva Wideman will be displaying acrylics.
CALLING ALL ARTISTS! If you are a member who is an artist, you can submit an application to exhibit in the Hycroft Gallery. The application is online on the UWCV web site under Events>Visual Arts at Hycroft, or email visarts@uwcvancouver.ca for more information.
VisArt Committee
Find out more »


LET'S TALK ABOUT SEX: Helping you get intimate with you...
As women, we get so many mixed messages about sex and sexuality. It's time for sex-talk realness for the modern woman. Based on her research and clinical experience, Dr. Kaitlyn Goldsmith will guide you through an exploration of women's sexual motivations, sexual response, pleasure, and how to leverage your sensual side to up-level your sex life. Discover the sexy science that will bring you closer to the sizzling sex you deserve.
Bio:
Dr. Kaitlyn Goldsmith holds a Ph.D. in Clinical Psychology and is an Instructor in the Department of Psychology at the University of British Columbia, teaching Human Sexuality. She works in the Women's Clinic and Reproductive Oncology at Vancouer General Hospital. She also works with clients with sexual difficulties in her private practice. Dr. Goldsmith has published several scholarly articles and book chapters in the area of women's sexual health and well-being and has been featured in several well known publications such as Glamour and Cosmopolitan magazines.
Please email farah.surani@outlook.com to receive the Zoom meeting link. 
RSVP with Farah Surani by Wednesday, July 8th
Find out more »


The Membership Committee cordially invites you to gather at Hycroft to celebrate the amazing women in our community who were born in July, tea and refreshments will be served so RSVP with the office by Thursday, July 23rd if you'd like to attend. There is no charge. All members are welcome to join in the fun.
Find out more »
+ Export Events