Hycroft Weddings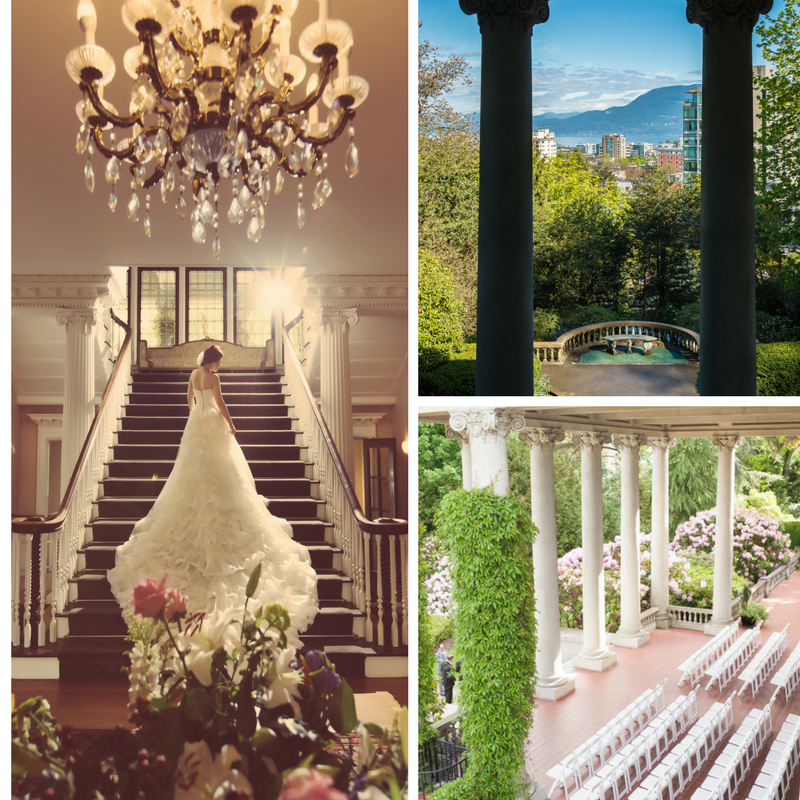 Imagine your wedding ceremony in our elegant Drawing Room and breathtaking Green Solarium. Hycroft is the ideal setting for an intimate evening wedding ceremony. Please contact our Events Manager, who will be pleased to provide you with more information. The Events Manager is best reached through eventsales@uwcvancouver.ca or the office phone number, 604.731.4662.
Hycroft is a unique and unparalleled setting for wedding ceremonies and receptions. Typically wedding ceremonies require rentals of four hours duration.  A wedding ceremony and reception can be accommodated in 8 hours. Due to the residential neighbourhood location of Hycroft, all rentals must be concluded by 11:00 p.m. This is non-negotiable.
Wedding rental price includes, in addition to indoor space:
The view terrace, the heritage garden, and the Juliet balcony;
Chairs set up for ceremonies and/or reception;
Assistance of staff person to greet wedding planner caterers, florist, deliveries etc;
One hour complimentary rehearsal, for immediate wedding party only,
to be arranged with the Rental Coordinator during regular daytime hours, generally from 10 am to 5 pm;
A limited amount of parking. Restrictions apply based on the day of week and time of day;
Dressing room suite, including washroom, for Bride on Upper Level of Hycroft;
Dressing room and washroom for Groom on the Upper Level of Hycroft;
Please note: Socan fee must be added to any event with any entertainment and/or music.
Hycroft Recommended Vendors:
Cakes and Treats
Butter Mere www.buttermere.ca sj@buttermere-patisserie.com 778.956.7789
Daisy Lai www.daisycakecreations.com daisy@daisycakecreations.com 604.771.7374
Jenny Bakes www.jenny-bakes.com hello@jenny-bakes.com 604.569.5847
Jaconde Patiserrie www.joconde.ca contact@joconde.ca 604.339.1726
Decor and Design
Myrtle Et Olive www.myrtleetolive.com heather@myrtleetolive.com 778.803.6053
Adelaide Design & Décor www.adelaidedesign.ca info@adelaidedesign.ca 604.671.6021
Bespoke Decor www.bespokedecor.ca hello@bespokedecor.ca 604.809.0660
Divine Décor www.ddecor.ca info@ddecor.ca 778.789.8889
Ruffled Rose Co. www.ruffledrose.com info@ruffledrose.com 604.427.2199
The Happy Hera www.instagram.com/thehappyhera/ thehappyhera@gmail.com 778.862.8213
 Disc Jockeys
Cygnus Entertainment www.cygnuseventsvancouver.com garreth@cygnuseventsvancouver.com 778.239.5216
Dynamic Weddings www.dynamicweddings.ca info@dynamicweddings.ca 604.724.0225
Jordan Zwicker Entertainment www.jzentertainment.ca info@jzentertainment.ca 604.726.7481
Florists:
Be Bloom Floral www.bebloom.ca 604.564.2266
Blossom & Vine Floral Co. www.blossomandvinefloralco.com hello@blossomandvinefloralco.com 604.428.2004
Celsia Floral www.celsiaflorist.com info@celsiaflorist.com 604.731.3314
Floralista www.floralista.ca hello@floralista.ca 604.888.6054
Hair & Makeup:
Keiko Hosoi www.keikohosoi.com keikihosoi@gmail.com 604.616.0894
Stephanie Alveraz www.musebeautyco.com hello@musebeautyco.com 604.603.4297
Officiants:
Discover Your Brilliance www.discoveryourbrilliance.ca kristen@discoveryourbrilliance.ca 604.832.2797
Weddings With Mitch www.facebook.com/weddingswithmitch  weddingswithmitch@gmail.com 604.970.0914
VanCity Officiant www.vancityofficiant.com vancityofficiant@gmail.com 604.761.9961
Young, Hip & Married www.younghipandmarried.com marryme@younghipandmarried.com 778.278.5796
Photo Booths:
Dang Good Booths www.danggoodbooths.com info@danggoodbooths.com 778.929.3264
Goldfish Photobooth Rentals www.goldfishmedia.ca info@goldfishmedia.ca 778.321.2441
Photographers & Videographers:
VanWeddings Inc. Photography & Cinematography www.vanweddings.com  info@vanweddings.com  604.639.6010
Caroline Ross Photography www.carolinephotography.ca caroline@carolinephotography.ca 604.723.5312
Hera Studios www.hera.studio hello@hera.studio 604.284.4372
I Am John Yoo Photography www.iamjohnyoo.com info@iamjohnyoo.com
I Do Productions www.idoproductions.ca hello@idoproductions.ca 604.809.4838
JuMi Story Wedding Photo & Cinema https://jumistory.com/ info@jumistory.com 778.978.9901
Life Studios www.lifestudiosinc.com info@lifestudiosinc.com 604.568.5538
Sambajoy www.sambajoy.com info@sambajoy.com
SoWedding www.sowedding.ca/ info@sowedding.ca
 Planners & Day-Of Coordinators:
Dreamgroup www.dreamgroup.ca info@dreamgroup.ca 604.537.3575
Niche Events www.nicheeventsstylists.com info@nicheeventstylists.com 604.818.1849
Shing Weddings www.shingweddings.com lisa@shingweddings.com 778.233.7302
Twofold & Co Weddings & Events www.twofoldco.com vanessa@twofoldco.com 778.990.5387
Rentals:
Pedersens Rentals 604-210-0242
Blushing Rentals https://www.instagram.com/blushingvintagerentals
Pacific Coast Tents www.pacificcoasttents.ca info@pacificcoasttents.ca 604.314.8772
Vancouver Chiavari Chairs www.vancouverchiavaricharis.com vancouverchiavarichairs@gmail.com 604.317.0772
Additional Services:
Liza Child Calligraphy & Design www.lizachild.com
Petite Puf Cotton Candy www.petitepuf.com hello@petitepuf.com 778.714.8968
VIP KIDS www.vipkids.ca info@vipkids.ca 778.879.9104